My favorite part of working at the Rocket Star is watching people on the track. Contrary to popular belief, people don't just run/walk around the track for excercise. No, no, friends. I have beared witness to skipping, hopping, dancing...and today I was granted the honor of watching a man do all of the above while making laps around the track. Why run a boring mile when you can skip/hop/dance/walk/side-step everry lap? He doesn't even have head phones...he's moves solely come from within. Very impressed, indeed. He is burning some serious calories out there.
My three month summer vacation is coming to an end very soon. Three months of a break from school has been a perfect break, and I am ready to go back. I am feeling rather confident, as opposed to the fear and confusion I was feeling this time last year. It's going to be a great school year. I can tell.
This summer I have been all over the place and have spent time in beautiful cities with beautiful friends...Brooklyn, NY, Seattle, WA, Cininatti, OH, Chicago, IL, Ortonville, MI, Boston, MA (in a week). Although my bank account is unhappy, I feel so fortunate that I was able to travel all over the place. We have a beautiful country. I have learned to deeply love road trips. I can even read in the car now without feeling sick.
Summer highlights:
amazing vegan food tour of NY thanks to Mary
the drug dog search in SWARM in Wyoming
4th of July South Haven trip with Bill, Franta, and Dan
indoor volleyball @ the bar in Chicago
a week of SCAMP
Michelle is engaged!
long walks with Blitz
watching that dude dance around the track
Ferry boat adventures in Seattle. The beach on Bainbridge Island was perfect. The long ride around the island with all the beautiful trees was magical.

cherry tomatoes in the garden! I didn't even plant them!
escaping to the movie theatre on hot evenings.
an new oven and a fridge!
Birdie's Bakery and Kitchen practicing...we're getting good!
Things get crazy and bills get overwhelming...but it's all worth it.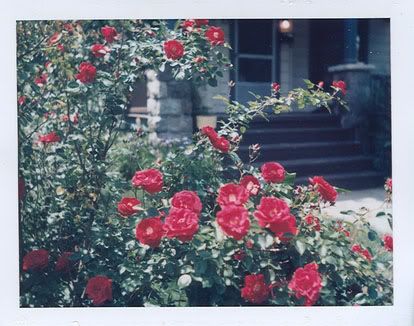 My precious roses.